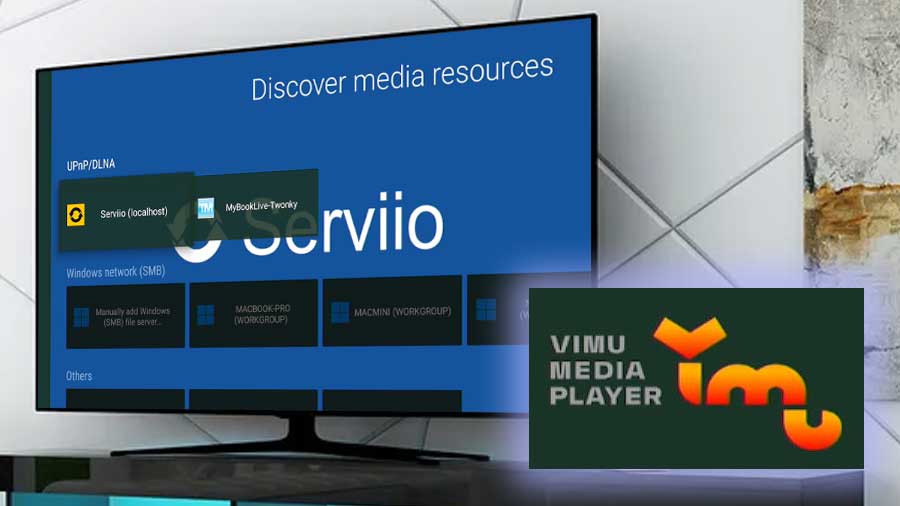 Table of Content
VLC like Media player that support all most all video formats and subtitles on your Android TV and Fire TV. You may all heard of VLC TV player. But it does not has many features like many other Android phone players. Now you can install Vimu Player on your TV to enjoy all those features like on a PC. Support playing Movies, TV shows, Videos, Music and many more from internal storage, external storage, SD Card, Flash drive.
TV Media Player
Entertainment has been man's best friend since the early days. Life has always included entertainment in some capacity. When life looks hopeless because of hectic schedules or intolerable duties, it gives it air. You can maintain both your mental and emotional wellness by engaging in enjoyable activities.
Your life will become happier as a result. Due to the importance of entertainment in man's life, many apps have been developed with the evolution of technology to serve this purpose. Due to this, people have often found it extremely easy to watch all of their favorite content, movies, and TV shows at ease.
You can always sit back and enjoy some entertainment at home or even on the go. With the Media players that have been developed, playing all of these media files have become super convenient as well. Allowing you to play all of your favorites, Vimu Media Player for TV has been developed to enjoy from anywhere around the world. Its features will blow your mind like no other.
Features of Vimu Media Player
The app's main features will astound you like nothing else. It only requires a quick setup that is tailored to your TV. The most popular file formats, including MP4, MPTS, DIVX, AVI, MKV, 3GP, and many more, are also supported.
Android TV supports hardware decoding for up to 4K (HEVC/VP9). You can view content in grid, list, and also very special double list navigation are used in the design to make it user-friendly. Additionally, a super convenient Leanback UI for Android TV is really quick and easy to use.
To enjoy all of your media assets, navigation and playing from SD cards, internal storage, and USB devices are all accessible. The software offers navigation, search, and playing via UPnP/DLNA servers in addition to navigation and playback through Windows shares (SMB).
You may now easily search through all of your media assets. You may now easily listen to a range of foreign material by changing audio tracks in international files. You may also easily watch your movies and TV series with subtitles thanks to compatibility for external SRT captions in any codec. With all of these features, playing your media files has never been this easy on TV.
In order to meet their emotional need for connection, families employ entertainment. Getting to know one another better and developing a relationship. Everyone is on an equal footing during shared entertainment experiences; no one is in charge. So, get together with your family, friends, and loved ones and enjoy all of your media files at ease right there on your Android TV or Fire TV. Sit back and enjoy some great entertainment no matter what your genre preference is. All it takes is to install the app on your smart device and enjoy all of your media with no hassle!
Install Vimu Media player on Android TV
You can easily download and install this TV box media player using your default app store. You can use either Play store or Amazon App store. If you are unable to find this application on those stores, you can try Applinked, Filesynced, unlinked or Aptoide TV. Those are the most popular Android TV app stores that use codes to install apps. For example, Applinked codes for Applinked and Filesynced codes for Filesynced. Below shows how to install this media player on Android TV.
First open Google Player Store app from "Apps" menu. Then go to search and type "vimu media player". You will see this app on search results like on below picture while typing. No need to full name.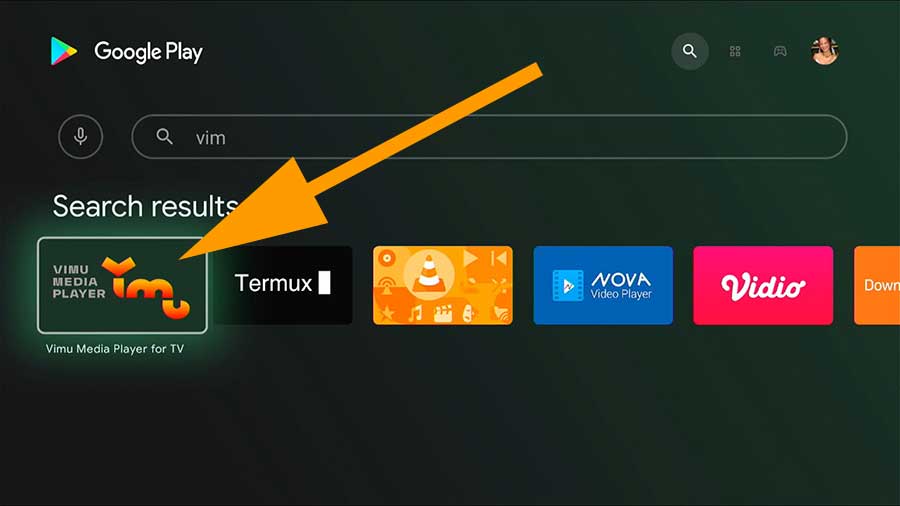 Now select "Install" to begin installation.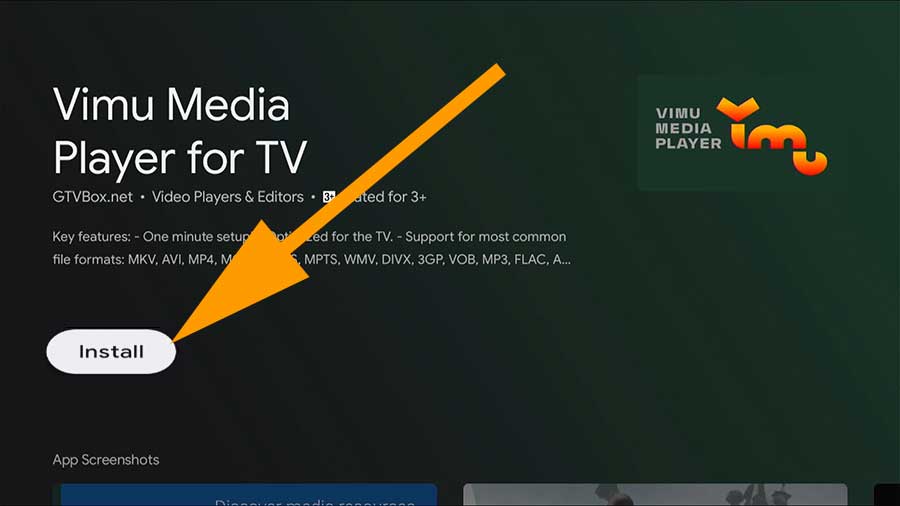 Install Vimu Player on Amazon Fire TV
One of the best and easy to use DLNA player for Fire TV. Below shows step by step guidance on how to install latest version of this media player on your Fire TV. Support all firestick models, fire TV cube, Fire TVs and all.
First open "App Store" application on the home screen. Navigate to search tab at left. Then type "vimu player". You will see text suggestions like below picture. Select app name to display search results.

Select app from search results.

Now select "get" button to begin installation.