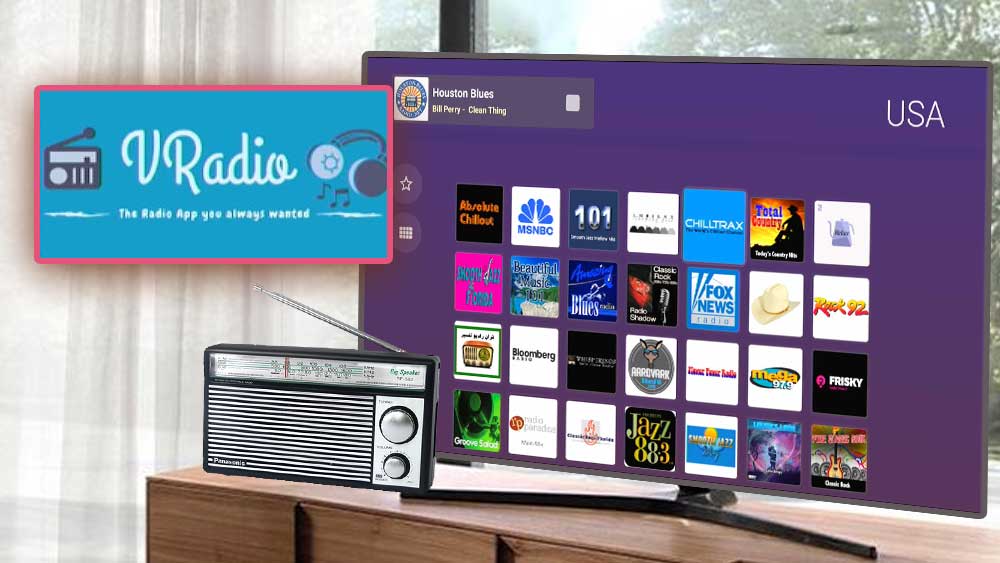 Listen to all your favorite radio channels now using your TV. You can install VRadio app on your Android TV, Chromecast or Fire TV for free. Support world wide radio stations. Easy to use interface for all TVs. Easily control this radio app functions and features with TV remote.
Development of Technology
With the noticeable increase of numbers of people around the world becoming more mobile in attending to their work or personal chores, is the major reason for the innovation of mobile devices. This development has been most welcome by one and all with open arms. In the past many devices such as Radio, TV, computer, and similar items were fixed. To move it to another location would mean, more than a simple task with lots of bother.
Wires, antennas, and the device holding accessories, all of these too, need to be moved alongwith the device and re fixed. Antenna got to be in the right position to catch the best signal wave lengths, in order to get clear picture reception.
The radio with its manurable antenna too got to be positioned right to catch the best sound wave lengths to bring in clear sounds. Well, the newer generations will not understand this complexity as the chances are that they have not experienced the by gone era devices. With the development of modern technology which has gone into the modern devices been currently used, wouldn't be surprised that the younger generations would even find it hard to imagine on what was mentioned here of the past era devices. Our topic here is on a modern development on radio also referred to as audio which has taken over the broadcast of content using sound. Let's focus on the world popular VRadio – Online Radio App Smart App, which has brought the best of radio content just before your ears.
Features of VRadio App
With modern unfaultering technology VRadio connects onto the indispensable and unequalled internet. With this the users can access and listen to over 20,000 ++ of popular branded radio stations of this world. If want to select a broadcaster station from a particular country, with VRadio Smart App's country navigation feature the selection can be done, as easy as a breath. With VRadio's curated categorization of radio stations, users wouldn't find a better option to select exactly the content they want. Choose Christmas, comedy, dance workouts, lifestyle, and thousands more this way.
With Recording feature, record to your heart's content and playback as you like even without internet. Pre set the Snooze feature by tuning to your favorite station and wake up to the sounds of your choice and start the day right and with delight. Set the Timer mode and listen to your choice whilst going to sleep. And the app will switch off automatically at the set time.
With such an amazing wide variety of choice offered by VRadio – Online Radio App Smart App it virtually covers and connects the whole worlds radio/audio contents to all of the app's users. To put in simple terms is to say there is no necessity to look elsewhere because VRadio has got everything under its wings. So be a part of this truly great experience each day, chill with the best relaxation to feel the best effects of calm and soothing one would indeed long for.
Install Radio app on TV BOX
You can install this free radio app on any Android TV box including Nvidia Shield TV, Mi BOX S, Mi TV, SkyStream, Fire TV, Firestick, Fire TV Cube and all. Follow below tutorial on how to install radio on Android TV.
First open Play Store TV app on your Android TV. Then go to search and type "vradio". You will see this application on search results while typing. Select it.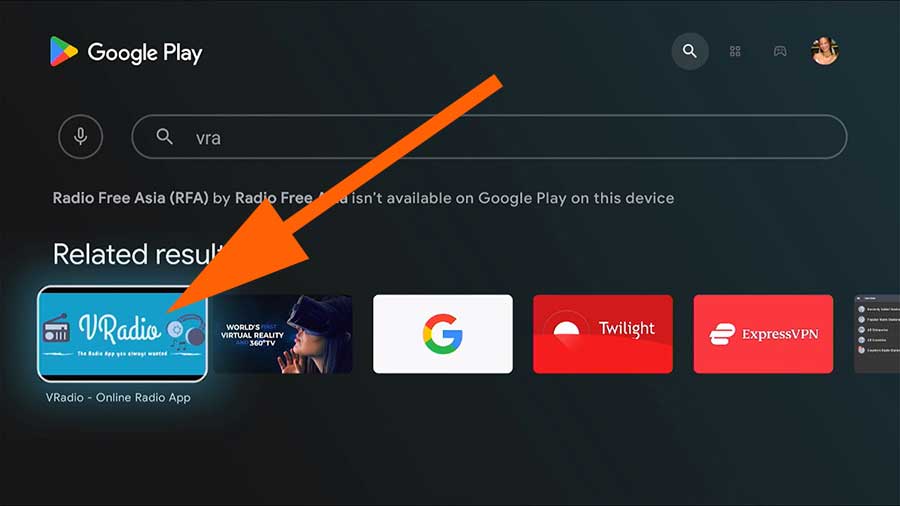 Now select "Install" to begin installation.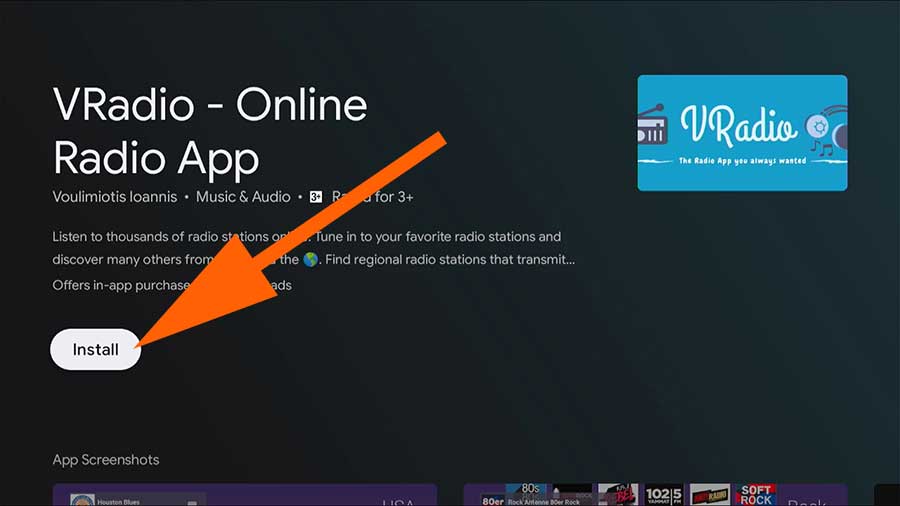 Make sure to checkout latest movies and TV shows applications on free app stores like AppLinked, FileSynced, unlinked and Aptoide TV.