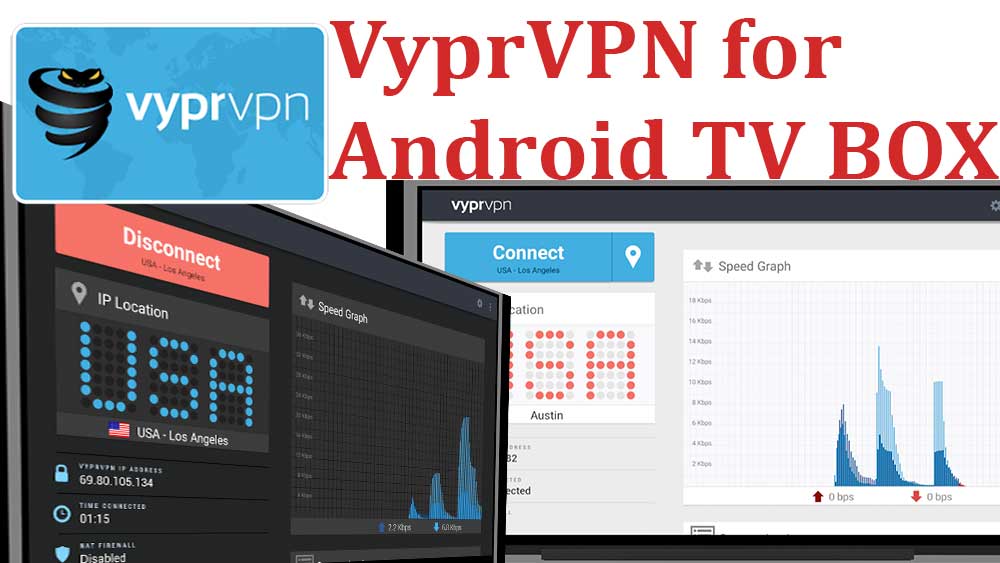 VyprVPN TV is one of the best VPN TV app for your Android TV. This is the best VPN that you can install on your Android TV to have a secure connection. That allows your to watch censored content, search internet by hiding your real identity. You can watch geographically blocked Movies. TV Shows, Sport events through VyprVPN.
This is a world where we have to concern about our online privacy. Because most of the time our privacy is open to various third parties. Using a recommended VPN TV app on your smart is the best way to to protect ourselves from such privacy data leaks. Even ISP cannot track what you watch and access using your Android TV Box.
Features of VyprVPN TV
Already I have mentioned that VyprVPN is the best VPN or the Virtual Private Network that you can have on your Android TV. As the name also implies this is basically supporting us to keep our privacy a secrete from others. Others cannot steal our privacy data, if you are using this VPN TV app on your TV BOX.
You may be aware that there are different ways and means where we will become victims of the hackers. Our confidential data will get leaked sometime. But VyprVPN provide no room for happening such terrible things. It guarantees our security, by building a safe, fast and a stable connection with the servers without providing any chance to leak information.
With this you can have access to all most all the content that you are interested without any restrictions. No more geo-restrictions thanks to VyprVPN. This allows you to connect with any website that you need to watch free Movies and TV Shows. You could get connected with more than 700 servers all over the planet including 70 countries and in 6 continents with 200000+ IP spanning. How nice it is?. Above numbers ensures that you always have faster and reliable internet connection via VPN.
Masking your real identity by giving you a fake IP address leads you to browse through the internet incognito. This will allow you to safeguard all your secrets with you itself. This will strongly lead you to have a secure internet connection and I am sure that all most all of you love this feature. Because this VPN doesn't let space for others to know what you are doing in the internet.
Furthermore, to use this app no need to login or register. If you are interested in this VPN TV app, then you can have it in your Android TV for a least price. By consuming Free-3-day trial period you can choose whether this app is compatible with you or not.
In addition, this app doesn't make your internet connection slow. You can experience a fast browsing experience with VyprVPN TV APK. This provides you the opportunity to bypass restricted networks and censorships also.
Download VyprVPN for Android TV BOX
VyprVPN available officially on Play Store for TV. You can easily download and install latest version of this VPN directly from play store TV. First open Google Play Store app and search "vypr". You can see VPN appear on search results like below picture. Select it.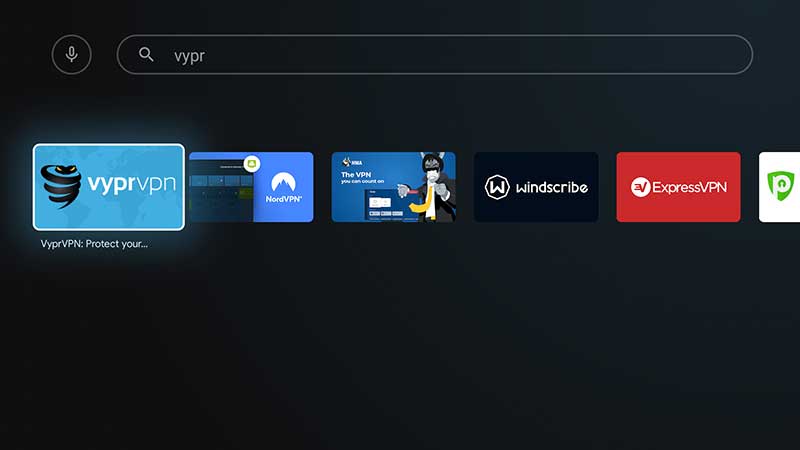 Now select "install" to begin installation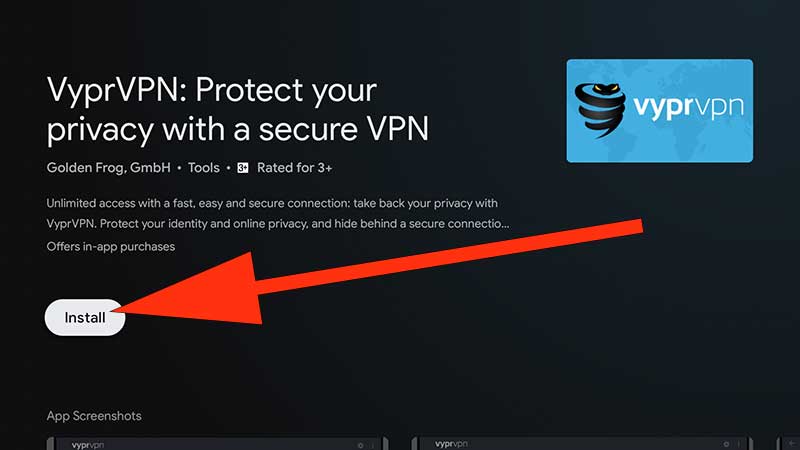 For Amazon Fire TV devices can use their default app store which is Amazon App store to install this VPN app. Support all Fire TV devices like Fire TV Stick, Fire TV cube, Firestick 4K, firestick lite and all. For other devices that does not have Play Store TV app can use Aptoide TV, Applinked, Filesynced or Unlinked.
Install VyprVPN VPN on Fire TV
You can install fully supported and specially designed for TV VPN app using your default app store. No need to use any other third party installers to get free and unlimited VPN for Amazon Fire TV and Fire TV Stick. Follow below mention procedure to install.
First open "App Store" application of your Fire TV. You will see this application on home screen. Next go to search which is at top left corner. Press select button of your TV remote to enter search mode. Then type "Vypr". You will see this TV VPN name appear like below picture. Select it.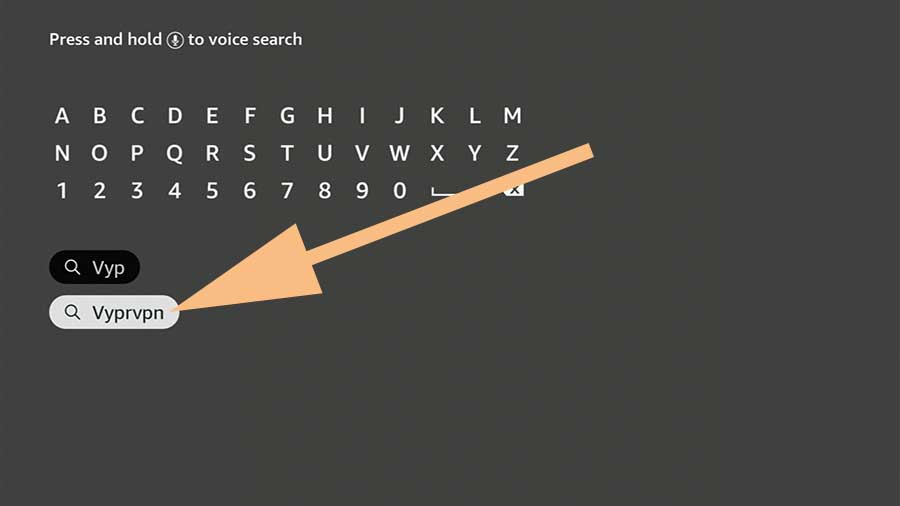 Now you will see search results like below picture. Select this app to continue.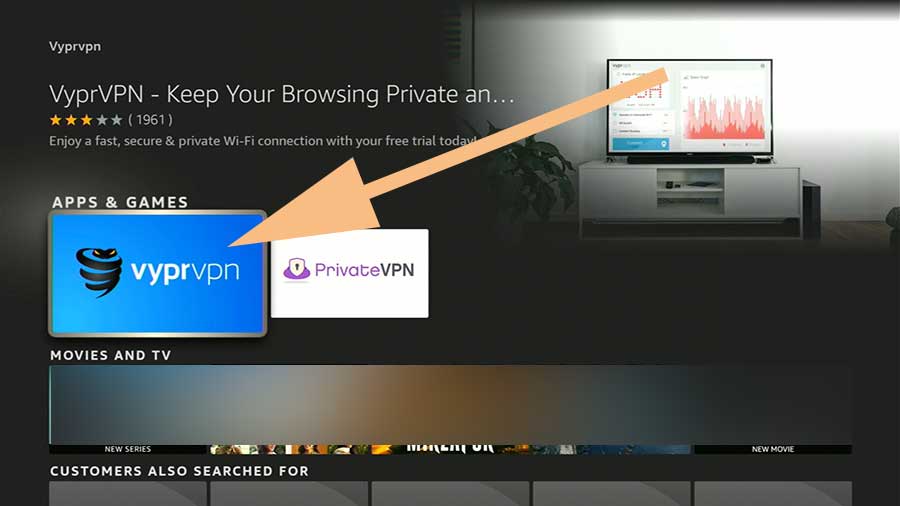 Select download icon like below picture to install.