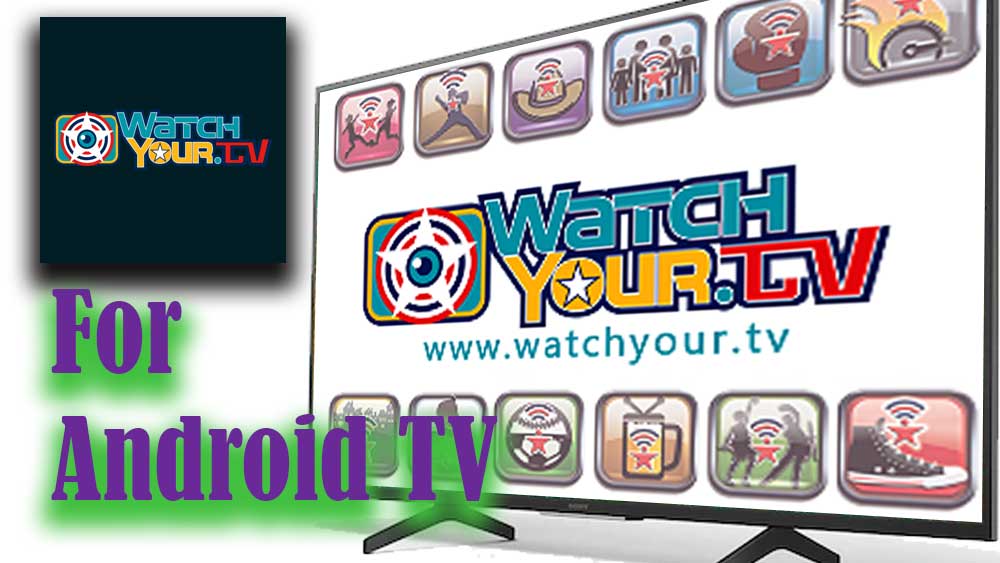 Watchyour.tv is a television streaming service with premium content which is mainly based on the USA. You can watch your favorite USA channels for free on any Android TV box including Nvidia Shield TV, Mi BOX S, Mi Stick, SkyStream, and Fire TV devices like Fire TV Stick, Fire TV cube. Watchyour TV enables us to watch through all major devices including 7 days DVR. This is a free streaming TV service from the TVS Television Network which produces 250 shows per year including sports, entertainment, and music. This is a streaming video channel with classic TV programs and movies that you can watch for 24 hours daily.
This Watchyour TV for Android TV video streaming service fully supports to advertisements. It will feature top classic TV shows from the past 60 years of television. All classic programs in this streaming service are in vintage nature. Since it takes service from TVS, this has planned an aggressive slate on new programs that capture the historical nature of television.
Features of Watch Your TV APK
Live Stream Programs you can watch from watchyour.tv apk
The following are some of the live streams you can experience through Watchyour TV. There are programs under various categories, such as sports, entertainment, movies, kids & Family, and Mixed programming.
Sports:
TVS classic sports
TVS Turbo Network
TVS Boxing Network
TVS Sports Network
TVS Tavern TV
TVS Women's Sports Network
Entertainment:
TVS Main Street
TVS Nostalgia
TVS Frontier
TVS Flashback Network
TVS Comedy Channel
TVS Travel Network
TVS Tally Ho
Movies:
TVS Classic Movies
TVS Drive-in Movie
TVS Hollywood History
TVS Western Movies
TVS Nostalgia Movies
Kids & Family:
TVS Family Channel
TVS Hi Tops
Mixed Programming:
TVS Television Network
TVS Today Home Entertainment Network.
TVS Tavern TV
TVS Main Street
Home Shopping:
Jewelry Television
Rare Collectibles Television
TVS Consumer Direct
Top Classic TV shows you can watch via watchyour.tv
This video streaming service enables top classics for the past 60 years. Some of them are:
Andy Griffith
Bonanza
Jim Bowie
Robin Hood
Green Acres
Sea Hunt
My Favorite Martian
Checkmate
Peter Gunn
Beverly Hillbillies
Ozzie and Harriet
Dick Van Dyke
Petticoat Junction
Facilities and Compatibility
Programs which forecast under the above-mentioned categories, allows you to watch as current live stream. If you are unable to watch live programs, you can watch them later. You can watch them by programming for the past several days on demand. Previously broadcast content has presented in a one-hour block. But there is no description of the show in those blocks.
This watchyour.tv streaming service compatible with all major devices. Some compatible devices are iOS devices, Android mobile, tablet, iPad, web browsers, Apple TV, Android TV, and Amazon Fire TV. And also if you have a Roku device you can install this from the Roku channel store and enjoy your favorite programs. Since Amazon Fire TV is one of the best set-top boxes which you can enjoy and DVR content on. You can easily install the watchyour.tv app from Google Play Store of Android devices as well as from iTunes of Apple devices.
Why Do You Choose watchyour.tv?
Because this offers you the best TV viewing experience from any device, wherever you are. No matter where you live or travel. It's Free.
Download WatchYour TV for Android TV
Watchyour TV app does not available on Play Store for Android TV and Amazon App store for Fire TV Stick and Fire TV cube. However you can download and install this app via other methods. Still there is not reliable Filelinked code for Watchyour.tv apk.
You can download this app using Aptoide TV. First download and install Aptoide TV. Click here for how to install guides for Aptoide TV.
Once complete installing Aptoide TV on your Android TV or Fire TV open it. Click on search icon like below picture.
Now type "watchyour.tv" and search. You won't to able to find this app on compatible list since this app is not separately developed for Android TV devices. Go to "All results"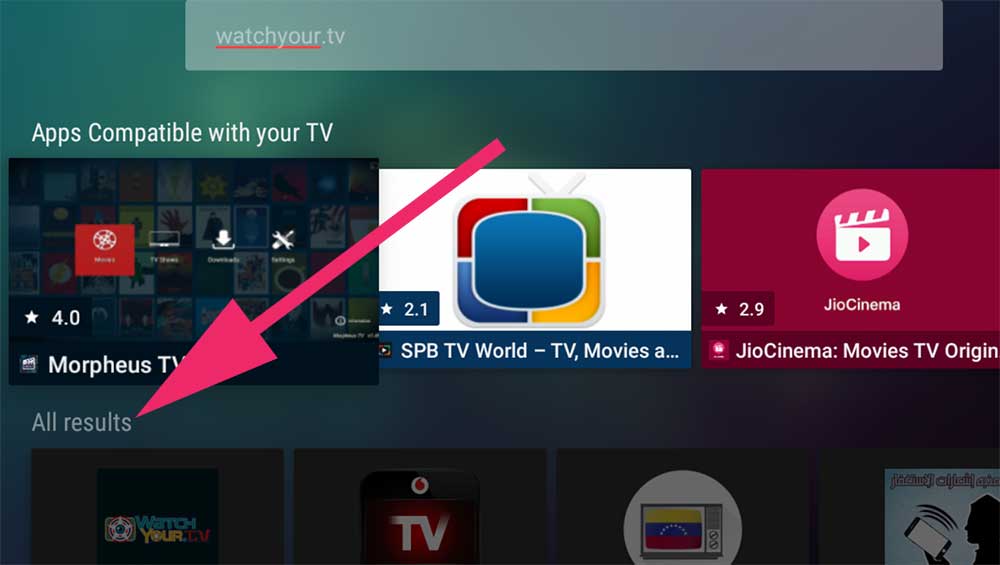 You can see this app under "All results" section. Select that app.
Now click on "install" button to begin installation.
Enjoy this awesome app on Android TV box and Fire TV for free.