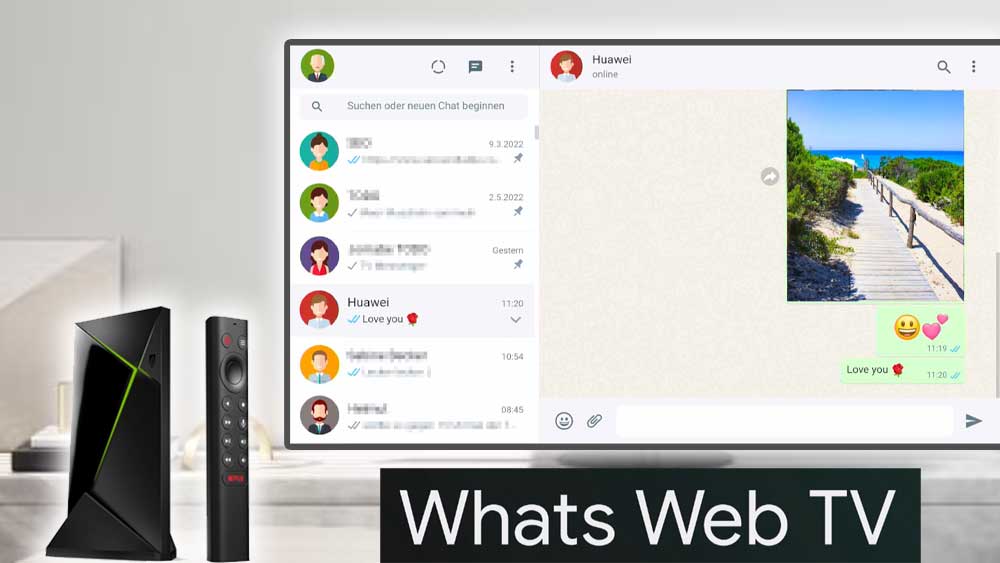 Are you sick of having to continuously switch between your TV and smartphone in order to use WhatsApp? Look nowhere else! That issue is addressed by Whats Web TV Messenger app which was designed by MUMASH UG. With the help of this ground-breaking software, you can use WhatsApp on your Android TV and enjoy the convenience of messaging directly on your big screen. There are many key benefits and special features and functions included in the app to increase app performance as well as to enhance the user experience. Since its recent release the app has gained significant popularity in the app market and has users from all over the world.
How to connect WhatsApp to TV
1. The ease of Whats Web TV Messenger App is one of its most distinguishing qualities. The application is simple to use and understand thanks to its clear and direct interface. A QR code will appear once WhatsApp has been launched on your TV.
2. Simply open WhatsApp on your smartphone, go to the settings (the three horizontal dots in the upper right)
3. Then select "Linked devices," click "ADD DEVICE,"
4. Use your smartphone to scan the QR code displayed on the TV screen.
Features of Whats Web TV App
You can effortlessly carry on speaking on the big screen without pausing your conversations because all chats are synced between your smartphone and TV. This implies that you can chat with your relatives and friends on the WhatsApp app in a very convenient and time saving manner.
You can transmit WhatsApp messages directly from your Android TV using Whats Web TV Messenger's direct messaging feature. Using the widely used WhatsApp app interface on your TV screen, you can share and receive messages with ease whether you're chatting with friends, family, or coworkers. This makes it ideal for staying in touch with loved ones while lounging on the sofa, participating in group chats, and sharing photos and videos.
It's important to note that there may occasionally be a small delay in the connection process and that you may need to scan the QR code on the TV screen twice in order for it to connect. Once connected, though, you'll have complete access to your WhatsApp conversations on your TV, enabling you to remain in touch with your contacts in a totally new way.
Download Whats Web TV for Android TV
The Whats Web TV Messenger app by MUMASH UG is a fantastic option if you're looking for a quick and easy way to use WhatsApp on your Android TV. You can have a seamless messaging experience on your TV screen thanks to its simple setting procedure, instant chat synchronization, and direct messaging features.
Just keep in mind that Whats Web TV Messenger app is an effective third-party option for bringing WhatsApp to your Android TV and not an official WhatsApp program. So follow below mention instructions to install this application on your Android TV for free.
First open Google play store application and go to search. Then type "whats web TV". You will see this application on search results. Select it.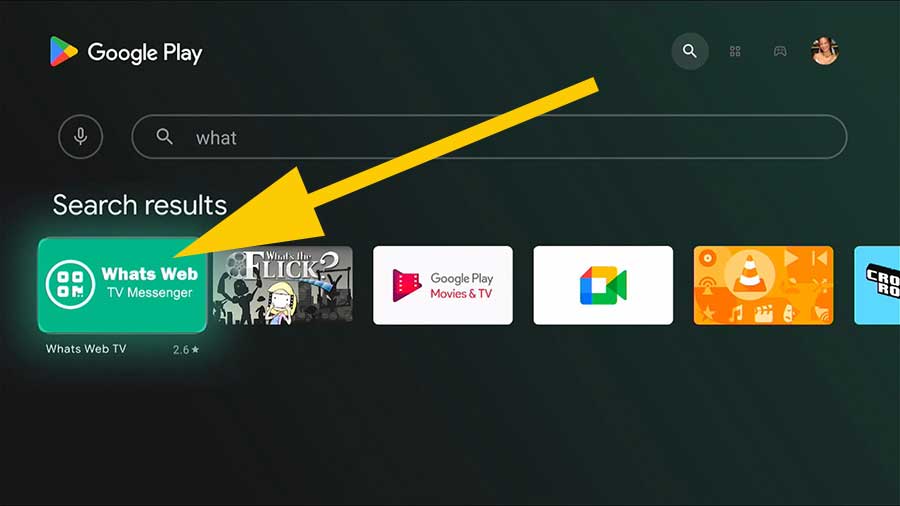 Now select "Install" to begin installation.

Most Android TV boxes and Fire TV devices does not provide this application. You can use third-party app stores like Applinked, Filesynced, Unlinked or Aptoide TV to download and install apps like this for free.