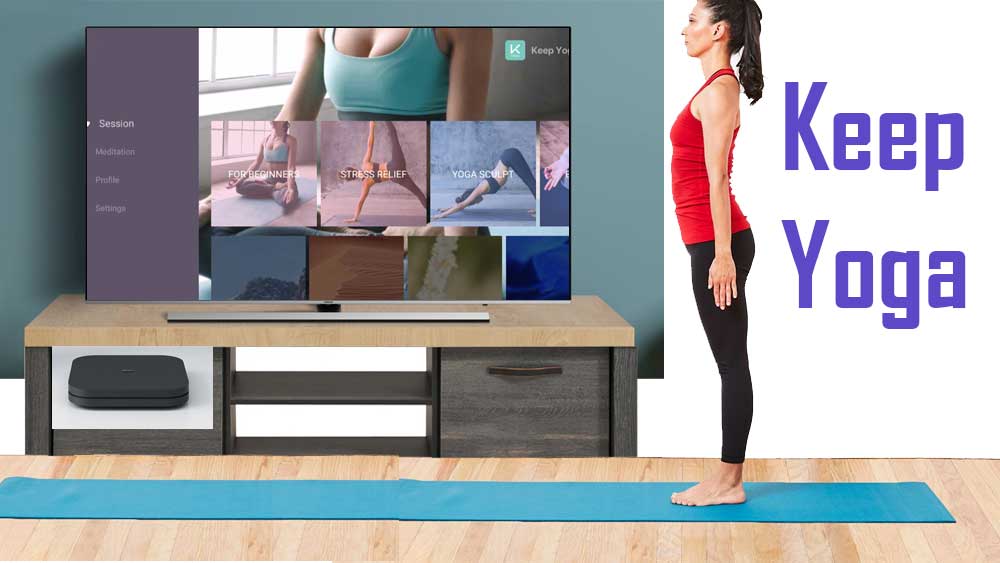 Have you ever tried doing Yoga in your life? If you care about your health you must try Yoga. What is Yoga? Well, generally speaking, Yoga is some kind of a way that is moving into stillness in order to experience the truth of who you are. This stillness fully relaxes your body and mind and provides you a fit body with zero stress minds. However, many people spend their time attending Yoga classes which cost so much money. According to my opinion, it relaxes both your mind and your wallet. Do you have any idea that you can do Yoga in your own house, inside your room? Well, I think I have a solution for you. 'Keep Yoga' is a Android application where you can improve your Yoga exercises with its help. You can install Yoga app on Android TV box and practice yoga front of your TV. Support all most all Android TV boxes including Nvidia Shield TV, Shield TV pro, Mi TV Stick, Mi BOX S, SkyStream, Fire TV Stick, Fire TV Stick lite, Fire TV Stick 4K, Fire TV Cube and all.
Keep Yoga is the app available for Android TV to practice yoga using your smart TV. This app includes over 400 asanas, more than 10 yoga session plans, and 7 meditation courses in order to relax your mind and body and give you a fresh feeling. These yoga sessions basically help to lose weight, relax mind and body, sleep much better than usual, boost the immune system, and keep your mind always clear and positive thoughts.
It doesn't matter what level you are at. Even if you are a beginner or an expert, these Yoga plans and sessions will always help you to practice Yoga at your masterpiece. Thus you can practice in a comfortable environment with a comfortable mind. You don't have to be ashamed if you do the practices wrong since there's no one to laugh at you. You will always be able to correct your mistakes by redoing, watching the application, Keep Yoga.
Features of Android TV BOX Yoga App
Keep Yoga for Android TV provides you multiple Yoga asanas, yoga plans, and yoga sessions for all levels (both beginners and experts). It offers you more than 400 yoga poses, more than 10 yoga sessions doing by yoga experts under their instructions. These instructions are designed by the experienced yoga instructors who are experts on this subject. There are different levels for yoga sessions which are Beginner, Intermediate and Advanced.
You will be provided professional voice guidance, video guidance, and detailed descriptions where it helps you to make progress towards your goal in Yoga without any barriers. These three guides will provide all the information you need. You will be able to quickly understand the benefits of the Yoga poses through the descriptions you give you and the video guidance.
Within 15 minutes, you will be able to learn how to be focused, how to breathe, how to train your mind and body, how to make peace with your mind, how to control stress, and how to relax. Yoga professionals will teach these teachings via video guidance.
Besides, with the yoga experts' cooperation, Keep Yoga has created a collection of music that is high quality, gentle, calm, and absolutely suitable for meditation, sleeping, and relaxing the body.
Download Yoga and Meditation app for TV
Best yoga app available for Android TV, Fire TV and Google TV is Keep Yoga apk. You can install this app directly using Google Play Store. Below describe how to install yoga app on Android TV and Fire TV. There are plenty of TV boxes without play store application. For those device can use Filelinked or Aptoide TV. For this app I recommend to use Aptoide TV. Because Aptoide TV is the easiest way to install on any TV BOX.
First open Google play store application.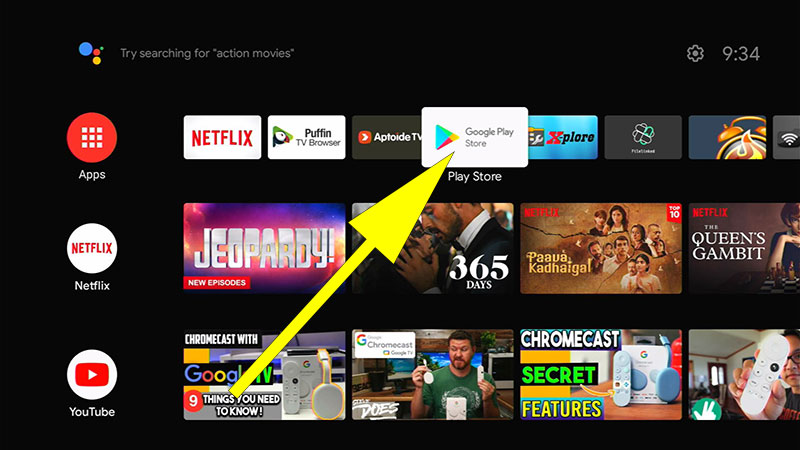 Go to search and type "keep yoga". You will be able to see this application on search results like in below picture. Select it.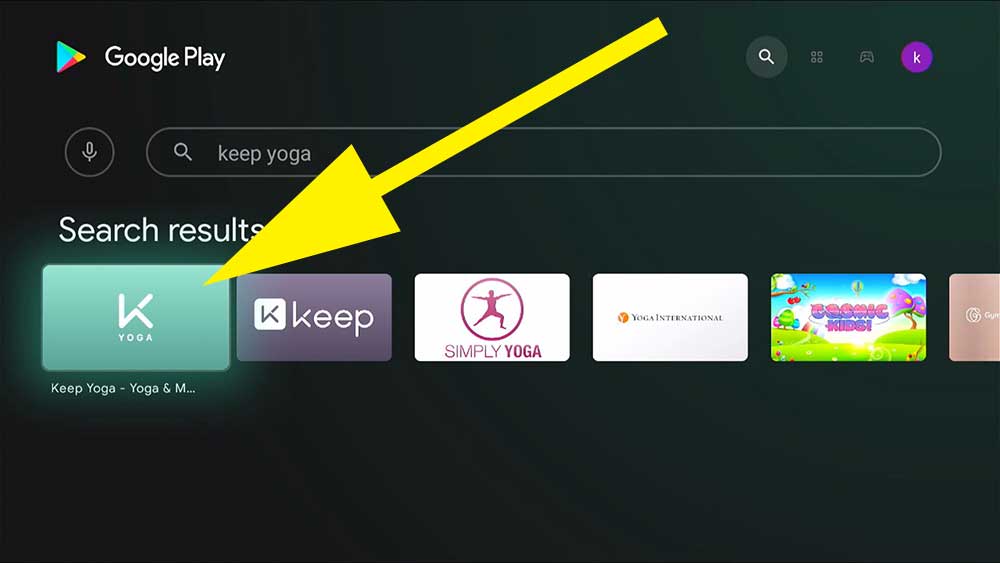 Now select "Install" to begin installation.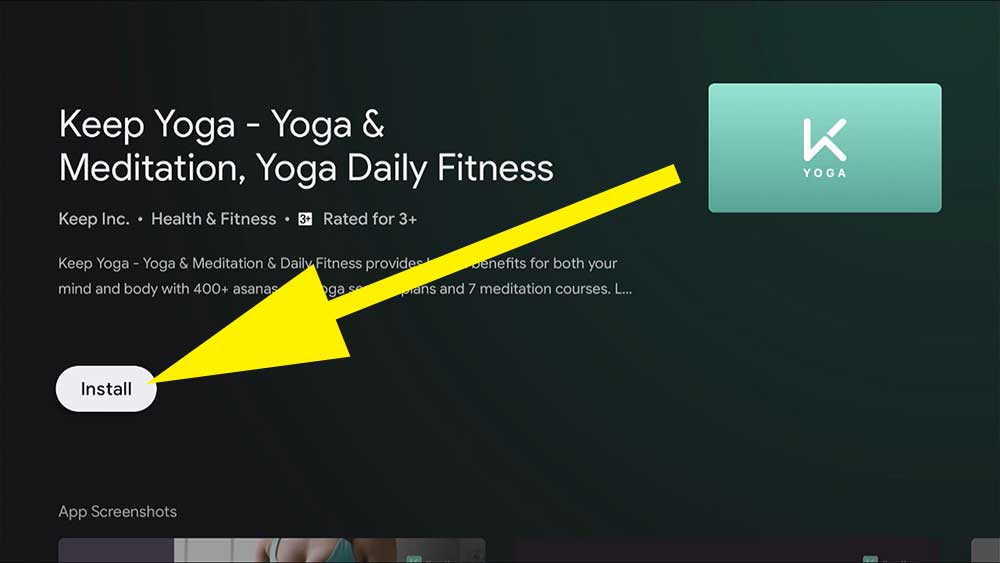 You can add your friends to Keep Yoga and train and practice with them together. Share with your friends, family, and loved ones and make them fit too. According to my opinion, Yoga is one of the best ways to reduce stress, anxiety, and lack of sleep. Since it boosts your immune system, strengthens your muscles, increases blood flow, Yoga is a perfect medicine for body and mind problems.