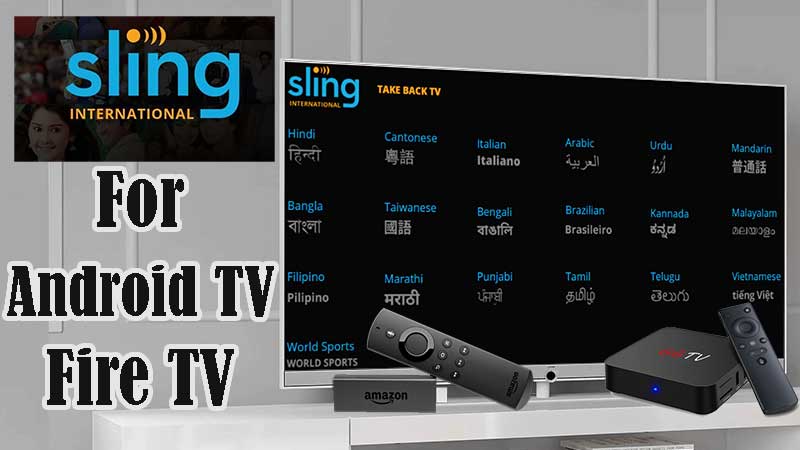 Best way to watch TV channels all around world on your Android TV box or Fire TV Stick. Watch foreign TV Shows or TV channels with this app. Support all most all Android TV boxes like Nvidia Shield TV, Mi Box and Amazon Fire TV devices like Fire TV Cube, Fire TV Stick and Fire TV Stick 4K. Sling International Android apk is a TV watching app that gives access to worldwide Television channels including the U.S.A. You can experience almost 300 TV channels and 20 different languages with your Android device.
This app offers many varieties of TV channels. In my opinion, this app reduces the distance between the world and us. It means you can experience your favorite live shows, sports, TV series, movies, and all other TV programs by installing this specific application on your Android device. This app is very useful for people busy with their schedules. They can experience their favorite programs anytime and anywhere with this app. This app supports all Android devices such as smartphones, TVs, tablets, and Laptops/PCs. Most families have one TV in their home. So you can't watch what you want if others are watching TV at that time. This is a kind of modern problem that may lead to arguments in your family. But this problem has a modern solution. Only you need to install the Sling International app in your Android device. Then you catch up with your favorite shows anytime without any argument.
Size of application – 24 MB
Android version requires – This application requires Android 5 or Android 5+
Developers – The Sling Internationals
Downloads – More than 100,000+ downloads in PlayStore
Popularity – This app claims 4.3 out of 5 ratings in PlayStore. 2621 people participated in the rating process.
Features of Sling International TV
You can download Sling International from PlayStore and it is completely free of charge.
This app contains many varieties of packages. So you can choose the best one depending on your preference.
Payment options depend on packages.
You can test this application without purchasing anything. This app offers a free trial for 7 days. You can watch your favorite shows during this period.
This app gives rewind service for many packages. So you can catch up to many programs later. This rewind service is able to look back for 8 days.
You can add extra channels to the current package or you can create the package by adding all your favorite channels.
You can have live experience in major leagues both cricket and football.
This app contains TV channels that cast the latest movies and TV shows. So you can access a huge library of movies and TV shows.
You will be able to access international news channels and music channels.
This app contains channels with more than twenty languages.
How to install Sling TV International
You can easily install Sling International APK from below mention method on any Android TV and Amazon Fire TV devices for free. If you have Amazon App Store or Google Play Store you can use those app stores if you like. Below listed direct links to those sources.
If you does not like or unable to download this app via above sources you can use below mention method. We are using Aptoide TV app since Filelinked does not have Sling International. Aptoide TV is a Android App Store that has all most all Android TV apps and Games. No limitations and restrictions like Amazon App Store and Google Play Store. Therefor every one can download what they need.
1. If you does not have Aptoide TV app installed on your TV, then don't worry. We got you covered. Follow below mention picture guide to install this app store for free.
Install Aptoide TV on Android TV
Install Aptoide TV on Fire TV
2. Open recently installed Aptoide TV app and click on search icon.

3. Now type "Sling" and select "Sling" from search suggestions like below.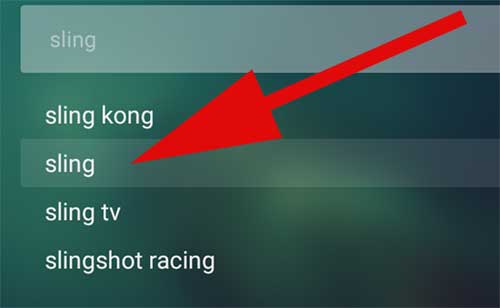 4. Now select "Sling International" app from search results.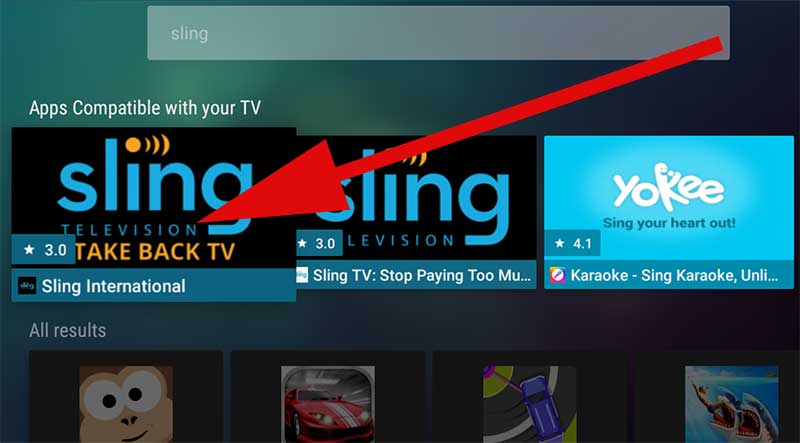 5. Click "Install" button to begin installation.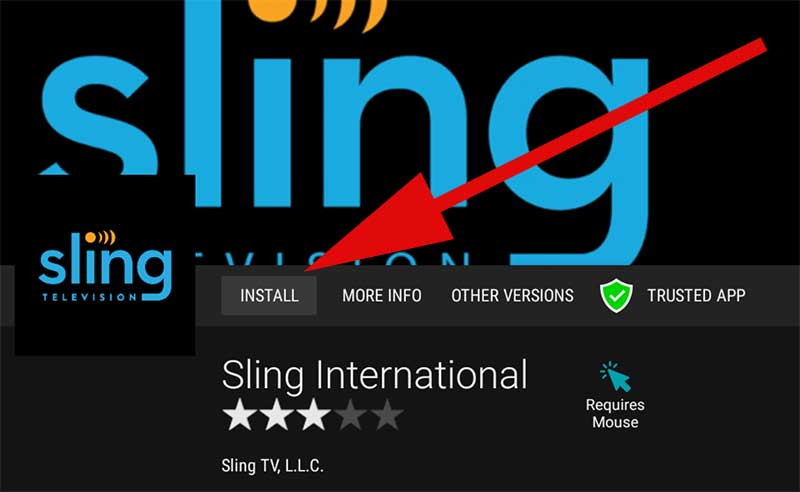 6. Now you have this app installed on your Android TV. However this app requires mouse support for easier work. You can install Mouse Toggle app for free. Mouse Toggle allow you to use Mouse pointer using your remote. Below listed how to install Mouse Toggle app on Fire TV devices.
1. Mouse Toggle for Fire TV 1st and 2nd Generations
2. Mousse Toggle for Fire TV 3rd Generation
3. Mouse Toggle for Fire TV Stick 4K
Safety and Legality
This app is available on PlayStore and recommended for 12+ audience. This apk does not contain any harmful contents or malware functions. To clear the trust issues, You can read the permission section before you install this apk.
FAQ
Is Sling International contains sports channels?
Yes it is. You can experience all major leagues without any interruptions.
Is the payment method secure?
Yes it is. You can refer to Sling International's website for more details.
Which country's channels are contained in this app?
You can experience worldwide TV channels including Indian, Arab, Brazilian, etc. 
Can I run this on my PC?
Yes you can. Only you need to install an Android emulator on your PC.
So that's all about the Sling International Android application. I hope you got all the facts about this app. According to Play Store reviews, this app claims high ratings and most users like this application. In my opinion, this app is always trying to give fair service to the users. If you are a person who looking for a TV-watching app for android, try this app. Don't worry about purchasing. First you can test this app by trial version and then you can decide if this is worth purchasing or not.